10 Best intelligent product management platforms : What is Product management software, and why does an organization need it? Every organization needs software to develop and improve business efficiency. It can be achieved with the help of software called product management software. These solutions enable product managers to get new ideas and plan to achieve an end goal. While in a majority of the cases, these tools are primarily used by product managers and product teams. Other benefits of using the product management software are as follows:
It helps managers to organise and execute product plans.
It also provides the manager and team with a roadmap to achieve those particular goals.
Product prioritisation & road-mapping can be done easily with Product management software.
Providing tools for resource allocation and providing collaboration features. product portfolio management, and agile workflows
These tools help develop product roadmaps, feature analysis, and customer research.
What to look at Product management software?
User Interface (UI)- Try to choose an app that offers a clean, modern looking interface across the different operating systems.
Usability- Does the software suits your business needs?
Task Management – Does the tool allows you to manage and organise tasks.
Roadmaps – Does the software allows you to set roadmaps?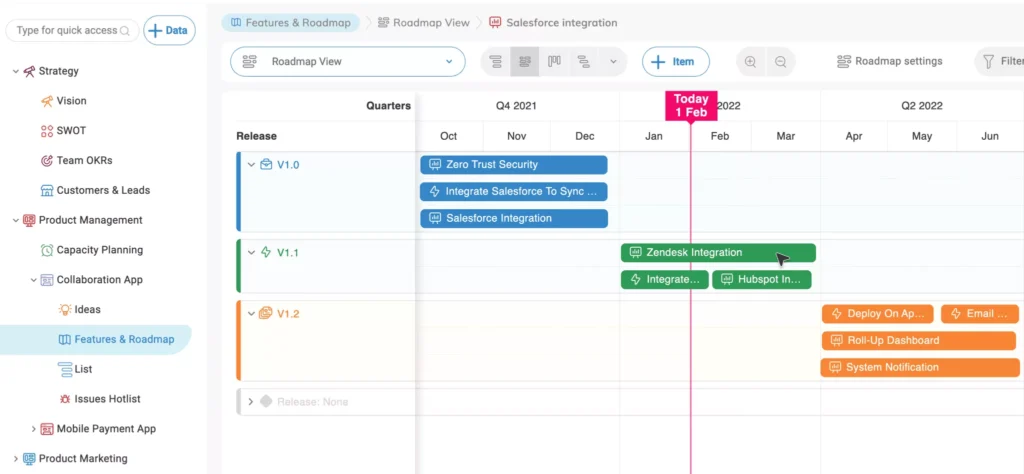 These tools provide increased transparency and insight into the product development process. Irrespective of the size of the business, it needs these software tools to develop and improve business products efficiently and quickly. Below down, we have discussed the best ten Product management software available in the market.
Asana- It is one of the best product management software preferred in most companies working on a large number of ongoing tasks. It is a collaboration tool connecting everyone from anywhere globally, thus allowing teams and people to work together. This platform offers many features that help guide a modern product strategy. This app provides multiple ways to visualise the workspace and individual responsibilities.
Jira- It is a SaaS product and project management software; it brings many features under one roof. It offers clear and crisp commitment tracking allowing managers to manage ongoing projects and monitor development teams from start to finish. It provides easy integration with ERPs and is adaptable to groups of any size. With this tool, the manager can create stories, plan build sprints, conduct Q&As, and track resolutions in real-time. It also acts as a business intelligence tool, albeit with limited functionality.
Zoho- It is a cloud-based product management tool with High level of scalability that includes various functionalities to help scale your product and the entire development process. This tool can be customised according to the needs and integrated with various applications, including Slack, Microsoft OneDrive, Insightly CRM, and more. This software has various software applications for product management, sales, workflow management, and timekeeping. It's an end-to-end product platform that can help you track user behaviour and rally skilled resources for streamlined development.
Calido- It is one of the Best Product Management Systems that offers many functionalities to manage the entire work of the software. This tool helps in product marketing, Product Management, product strategy and helps in building a product roadmap. This is a highly advanced tool that allows businesses to create Product Roadmap For Small Business. It is an outcome-driven platform to manage the full product lifecycle from start to finish point. It gives a clear product vision with a roadmap with user insights.
Roadmunk- It is also a popular product management software offering a road map solution to companies to develop customer-driven products. It allows you to attain and consolidate user feedback in one place, manage sales and support teams, can then take that feedback and send it to the product team via multiple channels. This is a great tool that allows companies to use customer feedback data and transfer it into prioritisation templates that are built into the software.
Redmine- It is an open-source software offering a range of flexibility to the end-user, it is a web-based software that is fully customisable according to your product requirements. It is built on language Ruby on Rails server-side framework. It allows managers to set goal-based task as per the needs and he can also implement an issue-tracking system that works on pre-set channels. It also offers a variety of Gantt charts, calendars, and other visualisation elements.
Wrike is a remote product management platform that allows product teams to build and manage their products from any place globally effectively. This software offers great flexibility and collaboration features with business intelligence capabilities in the product roadmap. Its user interface is also very intuitive, helping you identify if you are falling behind on any project and determine the problems in the project's life cycle.
Aha!- It is a world class product management software allowing managers to strategies, share visual plans, and prioritise features according to the project's needs. It lets you capture and line up your best ideas and gain feedback on the current prioritisation setup from all key stakeholders. This is great software if you are a beginner and new to the entire ecosystem of project management software.
Trello is also a very popular product management software helping businesses drive products to the market. It offers a variety of lists, cards and boards that empower teams to turn the idea into implementations. It is used to turn project ideas into reality much smoother. This application helps to visualise a product better.
Pivotal Tracker- This is also one of the greatest tools you can use. It is designed for software development companies. It is built to generate an agile workflow and offer an optimal structure that facilitates collaboration and communication; it also makes the entire team available on a single platform so that the project manager can track progress as the whole of the project in a short time.
Closing Lines
You can choose any product management software tool based on your usage and needs, above mentioned all the tools are well tested and are commercially used in various organizations. Most of them a free version with a limited functionality but it makes a lot of sense to go with a paid one.