Holi Kab Hai 2022 : Holi is the festival of colours and has special importance in Hindu culture. This festival is celebrated in India. This festival starts from Basant Panchami, that starts from here. The festival of Holi is a two-day celebration, celebrated as a victory of good over bad. Holi is celebrated as a national holiday in India and Nepal, it also marks the starting of spring and the end of winter and is also the beginning of a good spring harvest season. It starts on the evening of Purnima and falls in the Hindu calendar month of Phalguna. Holi for the year 2022 is celebrated/ observed on sundown of Thursday, March 17th ending at sundown on Friday, March 18th. The festival is celebrated for the famous devotee Prahalad (Devotee of Lord Vishnu) and the happiness of saving his life from God.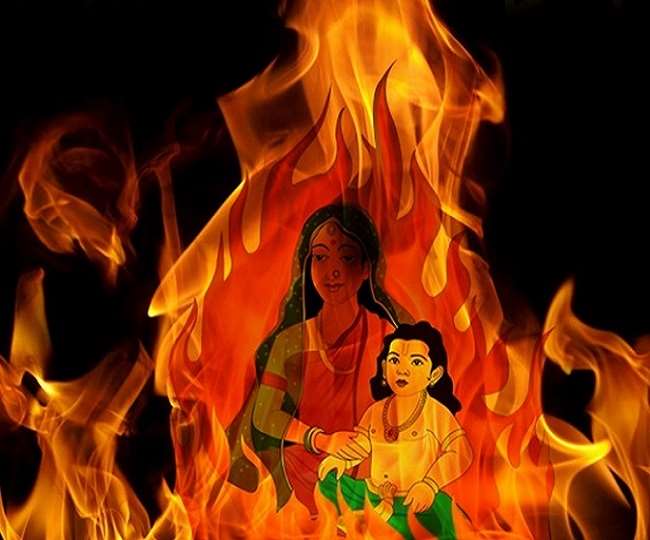 History of Holi
Holi is also known as Dhulandi and will be celebrated on March 18. There are three incidents in history due to which we celebrate Holi. This day marks the union of Shri Krishna and Radha. People in Braj (Birthplace of Lord Shri Krishna) celebrate Holi. According to the second incident, Holi also marks the reunion of Kama Deva (God of love and desire) and his wife, Rati. Lord Shiva restored Kama Deva after he burnt him with her third eye. Lord Shiva burnt him because he disturbed Lord Shiva from the state of meditation. But his wife's devotion convinced him t undone what he had done with Kama Deva.
And last but the most important incident, Holi, is associated mainly with the story of Bhakt Prahlad, who was a devotee of Lord Vishnu. At the same time, his father, Hiranyakashipu, who wanted all the people to worship him, he was a demon king. His son worshipped Lord Vishnu, that offended him and one day with his sister Holika (who was immune to fire), he planned to kill him, her sister sat on fire with Prahlad, but the fire couldn't touch Prahlad. It killed Holika. That's why we do Holika Dehen to symbolise the victory of good over bad.
Significance of Holi
There is no comprehensive data anywhere to know the origins of the festival. From the data available, this festival originated in Bengal, where the day was celebrated as the Gaudiya Vaishnava festival. This festival is celebrating in each and every state and in Mathura it is all different environment, energy here is unmatched to any part of the world. The festival lasts for 16 days and is primarily played with flowers here, while in other parts, it is celebrated with many colours, water balloons and water guns. Holi is celebrated in the month of Phalguna of the Hindu calendar, and the festivities start on the evening of the Purnima (Complete Moon).
Other names of Holi
Festival of colours (in English)
Fatwah (in Assam)
Doljatra (in Bengali/Oriya)
Dulhendi
Vasanta Utsav
Sigma in Goa
Shimoga in Maharashtra
Rituals of Holi
On this day, people play with colours and smear 'gulal' on each other's face. Mostly the colours are made of natural colours. Huge bonfires are lit, and dung cakes, wood, ghee, milk and coconuts are thrown into this bonfire. People come, dance, sing and feast with families and friends. This festival also symbolises the new harvest season Rabi. It is celebrated in different ways in different stets in India, some of the most popular ones are as follows:
Uttar Pradesh- In this state, "Holi Melas" are held in different parts of the state and people come here from all other states to visit the mela.
West Bengal- It is believed that the festival was first celebrated in West Bengal in which young girls dressed up in white and saffron clothes sing and danced to traditional tunes.
Karnataka- Here, the folk-dance style 'Bedara vesha' native to Holi is performed. People come from all the areas to watch this traditional dance.
Tamil Nadu- In this state, this is celebrated as Panguni Uthram. It is believed that Rama-Sita, Shiva-Parvati and Muruga-Devsena got married on this state.
Activities in Holi
Throwing Colour- Holi is celebrated by throwing colour water and powder on one another. This exciting activity shows our love for kids and respect for our elders.
Worship the Idol of Radha- Radha, as we all know, is a lover of Lord Krishna. According to available data, Radha was the first woman to be showered with colour as a symbol of love. To show respect, people all across India worship Radha.
Bonfires- Bonfires is associated with Holi, too. This symbolises the story of Holika and Prahlad. Fire is known to kill evil and represents Holika's demise (Victory of good over bad).
Consuming Bhang- Many people consume bhang to feel relaxed during festivals and truly enjoy the festival.
Holi Food and Drink
Holi, it's all about sweet and big batches of desserts are served up, such as Gujiya, flaky pastry parcels filled with dried fruit. The malpua, a deep-fried mini pancake; and thandai are all some of the popular sweets in Holi.
Closing Lines
The colors of Holi are a very special day in the Hindi calendar. Every year, India waits for this festival and starts enjoying the festival days before it begins. Out of all the festivals, this is about meeting our loved ones and exchanging gifts and greetings. What are your plans for this Holi? Something exciting, right, we all have our plans laid out for this amazing festival.